Viceregal Lodge: Summer Retreat of the British Raj.
This Jacobethan manor was home to India's first Viceroy, the summer retreat of the President of India and currently houses the Indian Institute of Advanced Studies.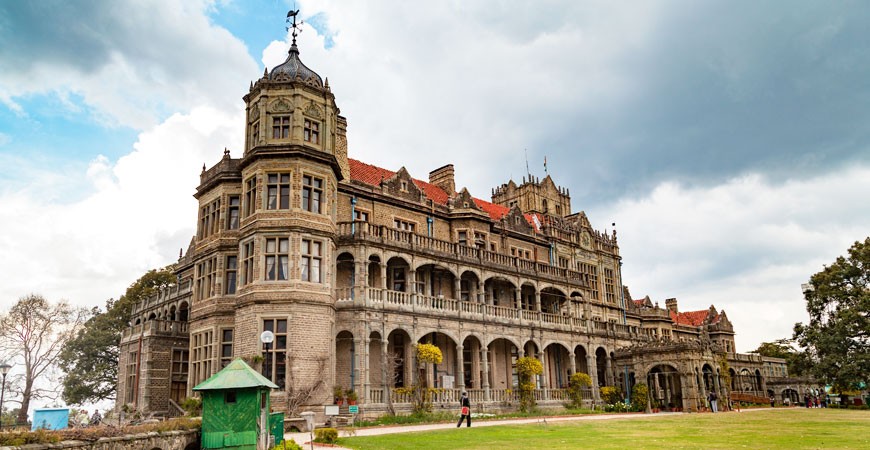 The Viceregal Lodge is a stately building styled to look like an estate manor in the English Countryside. It was built as a summer residence for winters, under the supervision of Viceroy Lord Dufferin in 1888 CE. It was not only the Viceroy's residence but was also a socialising place too for the colonial high society. This manor was built in the Jacobethan style, inspired by the revival of art and architecture of the Renaissance. In its heyday, the Lodge had a sprawling indoor tennis court, an enormous wine cellar and also a room just to store empty suitcases.
This impressive structure is made of teak, marble, Belgian glasswork and has luxurious fittings, sourced from different parts of the world. It is said to have had a complex piping system that ensured hot and cold water at all times, even back then. The Viceregal Lodge is said to be the first building in Shimla that had electricity and it is said that the first switch in the building was flicked on by Lady Dufferin, the then Viceroy's wife.
After India's Independence from the British Raj in 1947, it was declared as a summer retreat for the President of India, who handed over the premises to India's Ministry of Education. This place has since been converted into an academic institution and it is the address of the Indian Institute of Advanced Studies. Parts of the building, including the library, are accessible only to the researchers of the institute. But you can get a guided tour of the rest of the building, that is very interesting.
Sterling Kufri will be happy to facilitate this tour for you.
Good to Know :
Location: 21 km from Sterling Kufri.