Namgyal Intitute of Tibetology: The Custodian of Tibetan Culture
The Namgyal Institute of Tibetology was built to preserve and nurture Tibetan culture and Buddhism. The institute's museum has a fascinating collection of cultural and religious artefacts, one of the largest outside Tibet.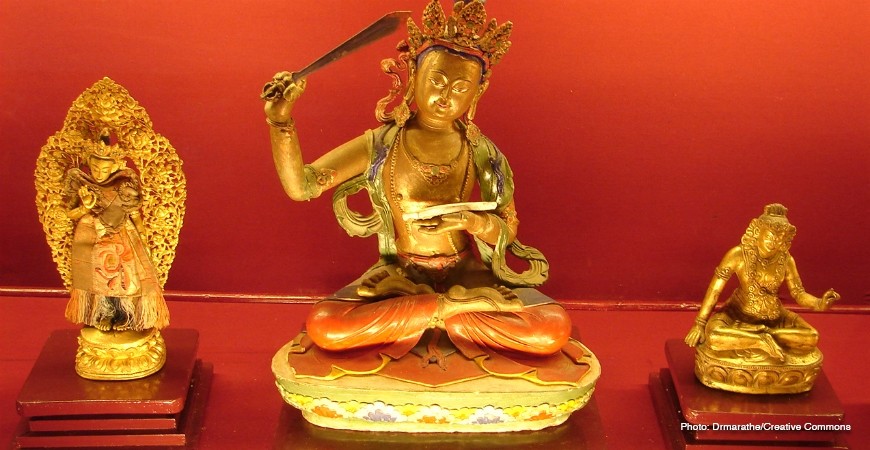 The Namgyal Institute of Tibetology in Gangtok upholds Tibetan culture. It was set up in 1958, on a land gifted by King of Sikkim, Tashi Namgyal. The institute sponsors and promotes research on religion, history, language, art, and culture of the people of Tibet. While Tibet fights for its freedom, this place in the quiet hills of Sikkim acts as a custodian of its rich culture.

The library at NIT is one of the largest collections of Tibetan works outside of Tibet. It houses over 60,000 books and xylographs including rare translations and significant scholarly work. It is an essential resource centre for those pursuing Buddhist Studies.

The museum is the institute's crowning glory. On display are rare statues, thangkas, religious and cultural artefacts and several ancient manuscripts, including one written in gold. The centrepiece is a silver statue of Manjushri, the Bodhisattva of knowledge. Another interesting exhibit is a casket that contains the relics of two great Asokan missionaries.

The Namgyal Institute also highlights India's inherent pluralism that makes it a fertile ground for multiple cultures to flourish. It is safe to say this institute has successfully preserved and enriched the Tibetan culture for the world to see.


Good to Know : 

Location: 3.5 km from Sterling Gangtok, near Dro Dul Chorten

Entry Fees: As applicable

Timing: The museum and the library - 10 am to 4 pm - Monday to Saturday

Closed on Sundays, public holidays and second Saturdays of every month.