Yak Safari: Land of Glacial Lakes, Panoramic Sight of Himalayan Range, Rugged Terrain and A YAK
Don't get frightened about its looks, this gentle beast moving at a slow pace is the best way to cover this terrain and experience the beauty of Gangtok.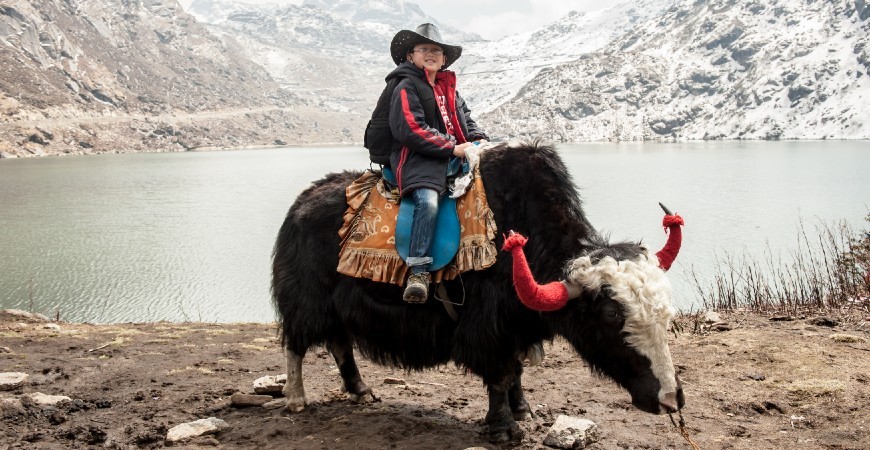 Yak safari is one of the most tranquil Activities to do in Gangtok when you visit the Changu Lake, also known as the Tsomgo Lake. The lake is 40 km drive from the Gangtok town. The area has a market at one side and snow cover mountains on the other sides. Yak safari undoubtedly is a unique experience that you surely must not miss. These calm and gently animals are covered in long hair to protect them from the cold areas they are found in. The Yaks here are decorated with colourful rugs and ribbons tied to their horns. Every Yak has a trainer who will control the animal when you are riding it.
Experiencing the beautiful mountains and the lake from the back of a Yak is surely something that you will never forget. You can rent a Yak from the market area and go on the safari tour of a lifetime.
Good to Know :
Location: Tsomgo Lake, located about 40 km from Gangtok.
Price: Riding a Yak to the bridge costs Rs. 100, to the viewpoint Rs. 200, to the village Rs. 300, and all the way to Kemang costs Rs. 500. Taking a photo will cost you Rs. 50.