Lal Tibba: The Blushing Peak of Mussoorie
The climb up to Mussoorie's highest peak, Lal Tibba, is a quiet walk past cemeteries, churches, old cottages and thickets of pine.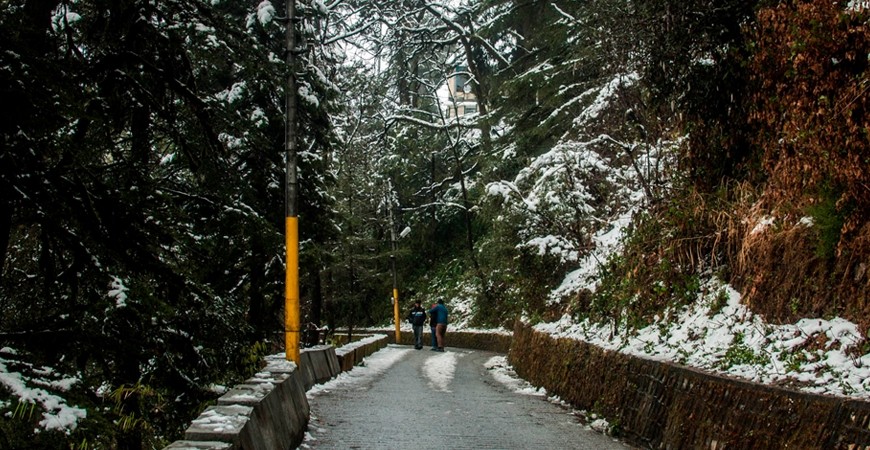 Lal Tibba is the highest peak in Mussoorie. At dusk, in the setting sun, a bald patch of the peak gets a blush red glow. And that is how the place got its name 'Lal Tibba'. 
This hour-and-a-half walk from Landour Bazaar is worth taking. In some ways, the walk feels like strolling through a British settlement. The streets are clean and the air gets noticeably cooler as one climbs up. Pretty cottages with tin roofs and smoke-spewing chimneys, stone churches with their painted windows, thickets of pine, quiet cemeteries nestled in the woods - all these transport you back in time.
In winter, the greenery makes way for white snow. You can often see tourists roll in the snow and throw handfuls at each other with joy. There are plenty of places one can stop en route for a cup of coffee and a bite, making this a fairly easy trek.
There is also a viewing platform at Lal Tibba. One can view the distant Kumaon region and Doon valley through telescopes here. Spending half a day for the hike through Landour to this peak is worth the magical experience.
Good to know : 
Location: Lal Tibba is 10 km from Sterling Mussoorie
Follow the guidelines for photography. Keep children safe.