FABLES OF MUSSOORIE ON THE PRAYER WHEELS
Spin the prayer wheels to read about some lesser known legends and fables from the land of Dev Bhoomi.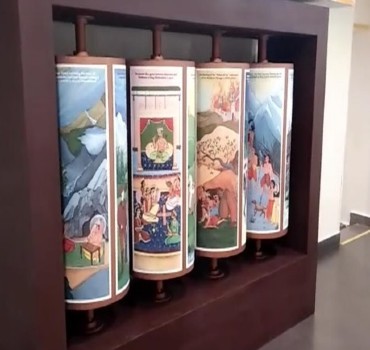 Mussoorie is not just rich in flora and fauna but also a land of some great fables and myths that are bound to make the holiday experience here more enriching.
Sterling Holidays handpicked four unique fables that are doused in the rich and colourful Mussorie and Uttarakhand.
As you roll your hand through each prayer wheel,
Learn about the land of Dev Bhoomi and its relevance with the Pandavas during their exile period.
Read a heart-warming Garhwali folklore of a brother-sister longing for each other.
The legendary story of the British soldier Frederick 'Pahari' Wilson, and
The Secret life style of British Grass Widows.
The inspiration to depict these stories on the prayer wheel comes from the historic connection of his Holiness Dalai Lama of Tibet with Mussoorie, as this is where his Holiness first sought refuge in the year 1959.
#SterlingDiscoveriesandExpereinces
#FablesOfMussoorie