CARRY ON DANDY
Pull on a costume from the bygone era and click a memorable experience of being carried in a private 'Dandy', surrounded in the backdrop of the majestic Garhwal ranges of Mussoorie.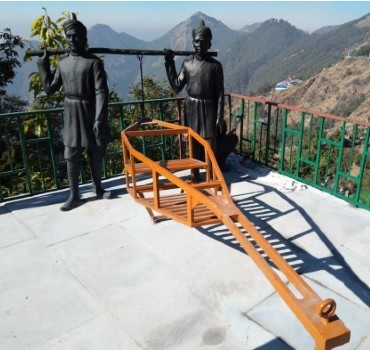 Dandies were once a common and often the popular form of transportation used by the British, especially the women. Hiring a Dandy for a trip atop the hills was a common practice. While these dandies are rare in rest of the India, even today, they are still used as one of the forms of transportation in hill stations where the terrain is difficult and non-commutable by a vehicle.
Each Dandy could carry one person seated comfortably in a wooden seat in the centre and was moved by four coolies (porters) lifting the four wooden logs on their shoulders.
Pull on a costume of the bygone era and experience a moment of being carried up in a private Dandy.
This life-size installation of the dandy promises to spark a moment of nostalgia in the backdrop of the charming Doon Valley.
#SterlingDiscoveriesandExpereinces
#CarryOnDandy