Jallikattu
The traditional and radically different Indian alternative to the famous Spanish sport of bull fighting, Jallikattu is a sport played as a part of the celebrations during the harvest festival of Pongal.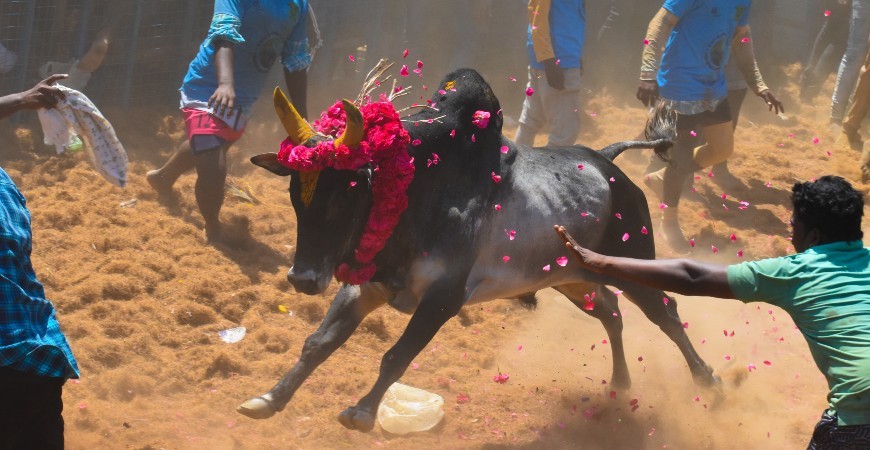 While Jallikattu is popular in various destinations in Tamil Nadu, it is most commonly seen played in Madurai over 3 days held in Alanganallur, Palamedu, Avaniapuram in Madurai district. The sport itself involves releasing a specially bred bull into a crowded arena where brave youth attempt to grab the large hump on the bull's back with both arms and hang on to it while the bull attempts to escape. Participants hold the hump for as long as possible, attempting to bring the bull to a stop. In some cases, participants must ride long enough to remove flags on the bull's horns.
Jallikattu dates back to 400 BCE - the Tamil Classical Period- among the Ayar people of the Mullai Forest region. Eventually the prevalence of the sport spread, becoming a platform for a display of bravery. Participants were encouraged with prize money, and Jallikattu grew to be an important part of the local economy.
A cave painting in white kaolin discovered near Madurai depicting a lone man trying to control a bull is estimated to be about 1,500 years old. The bulls used for Jallikattu are of the Zebu (bos indicus) variety and are bred specially for this event by the locals. The highlight of Jallikattu is that unlike its Spanish cousin, the bulls are not killed, and the humans participating are unarmed. Incidentally, Jallikattu also helps preserve the native breed's authenticity, and incentivizes the rearing of this species – which would otherwise be cross bred to yield higher quantities of milk.
Good to Know :
Best time to visit: During Pongal Festival (usually 14th-18th January; dates may vary year on year)