Thirumalai Nayakkar Mahal
Built in 1635, by the King Thirumalai Nayak who had the vision of creating a masterpiece of a royal residence, it was designed for the king by an Italian architect.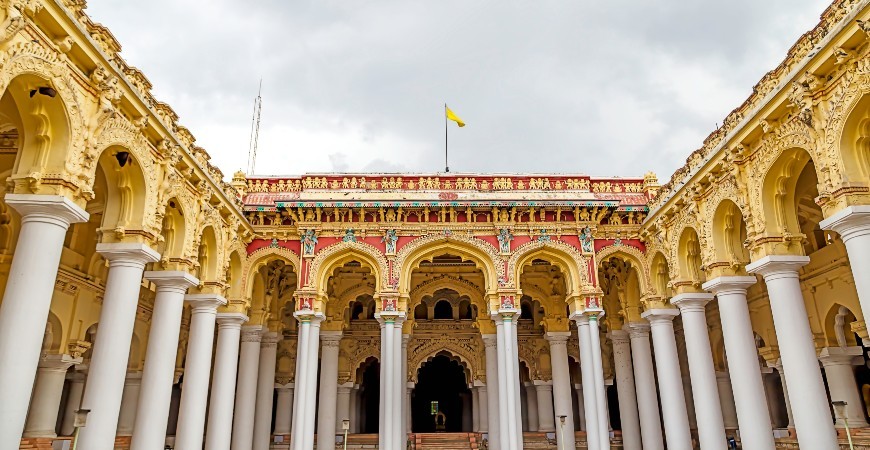 Now a popular sightseeing place in Madurai, this palace seamlessly blends Dravidian and Islamic styles of architecture and is a must visit for both history and architecture lovers. Even if you aren't either, the sound and light show held here every evening will captivate you and allow you to truly appreciate the grandeur of this construction.
It is said that when it was built in 1636 AD the palace was almost 4 times larger, but over time multiple renovations and reconstructions – primarily by the grandson of the King Thirumalai Nayak and then later on by the then Governor of Madras, Lord Napier – led to the palace being reduced in size.
The interiors of this palace are lush with intricate paintings and sculptures – the paintings on the roof are mesmerizing. The palace is also known for its majestic pillars, the massive 40,000 sq. ft central courtyard and the circular garden.
The palace has also been a favourite of several directors in Bollywood and Kollywood. Many blockbuster movies like Guru, Bombay, Aadukalam, and Iruvar have had sequences that were shot at this majestic location.
Good to know :
Location: 7.1km from Sterling V Grand Madurai
Timings: 9 AM to 5 PM. (Lunch break 1PM- 1.30PM), 7 days a week.
Light and sound show timings: English - 6.45 PM to 7.35 PM, Tamil - 8 PM to 8.50 PM