Thiruparankundram Subramaniya Swamy Temple
One of the 6 temples of the 'Arupadaiveedu', dedicated to Lord Murugan, the Thiruparankundram Subramaniya Swamy Temple is one of the most prominent religious shrines in south India.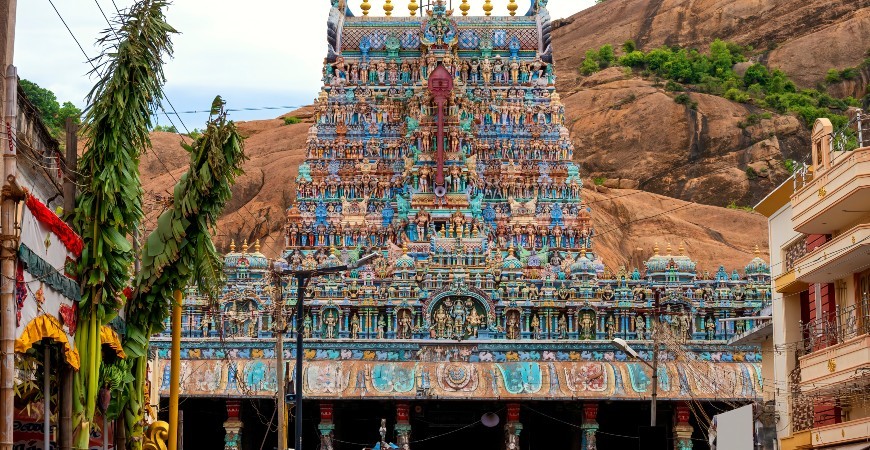 Carved out of a mountain by cutting rocks, the temple was built in the 8th century during the Pandyan reign. Apart from being a historically important landmark, the temple is also well known for an extremely unique feature. Unlike any other temple, here the idols of Lord Shiva and Lord Vishnu face each other – a rare thing not often seen in Hindu Temples. It is also said that here, the sun and moon can be seen together, which is a major draw for devotees and visitors.
According to legend, it was at this place that Lord Murugan married Goddess Devasena, the daughter of Lord Indra. The temple is considered to be one of the most auspicious places to conduct a wedding and it is believed that the couples who get married here are blessed by Lord Murugan with a happy and successful married life.
Another unique feature of this temple is that it is visited not only by Hindu devotees. A Muslim shrine dedicated to Sekunder is also located here. Legend says that Sekundar (possibly Al-sikandar or Alexander the Great) was a good friend of Murugan when he was King of these lands.
Good to Know:
Location: 15km from Sterling V Grand Madurai
Timings: 5 AM – 1 PM, 4 PM – 9 PM
Time Required: 2 hours