Kankwari Fort: The Fort of Sariska Tiger Reserve
The remote Kankwari Fort located in the buffer zone of Sariska Tiger Reserve is where the Mughal Prince Dara Shikoh was once held captive.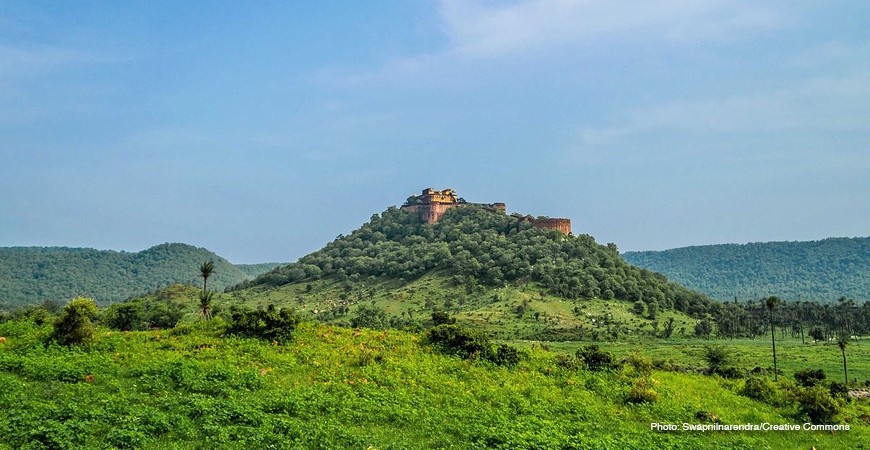 In a region dotted with forts, Kankwari Fort wins hands down for its remoteness and history.
Maharaja Jai Singh I, built this hill fort in the seventeenth century. Here, the Mughal Prince Dara Shikoh was held captive by his brother Aurangzeb. Dara Shikoh was a patron of fine arts and music. It is said that King Shah Jahan had formally confirmed Dara Shikoh as his heir. However, when the emperor fell ill, Aurangzeb waged war against Dara Shikoh and emerged victorious.
Kankwari Fort lies deep inside the tiger reserve, 21 km from the main gate. It stands on a hillock, with just a handful of families living in the Kankanwadi village at the base of the hillock. The fort is in a protected forest area. One can visit the fort while on the jungle safari through Sariska Tiger Reserve. For a large part of the drive, there is no sign of the fort. Suddenly you can see minarets spring up in the distance, and the entire fort is visible once you reach the base of the hill. There is a moat around the hill, and a winding path beyond the moat leads up to the main gate.
The fort is a beautiful piece of architecture. The chhatris and the exquisite wall paintings speak of opulent times. One can go exploring in the huge rooms, intricately designed gardens and water wells. The overwhelming view from the top of the fort gives a 360-degree view of the jungle below. Keep a day aside to visit the entire fort.
Good to Know :  
Location: 26 km from Sterling Sariska
Entry Fee: A special permit is required from the forest department
Timings: 6:00 am to 5:00 pm